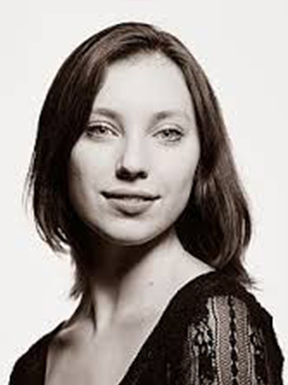 Born in Sydney, Stephanie took her first ballet class in 1987 at The Dance Class with Julie Wells.
Over the years Stephanie was also taught by Kim Traynor, Rita Dubovsky, and Shane Carroll. In 1997
Stephanie commenced classes with Tanya Pearson at her Classical Coaching Academy, first as a part-
time student then in 1999 full-time.
In January, 2000, Stephanie travelled with Mrs Pearson to Europe to compete in the Prix de
Lausanne Ballet Competition in Switzerland, and it was this experience that opened her eyes to the
International and European ballet scene.
Stephanie was invited to study under scholarship at the Ballett Akademie Heinz Bosl-Stiftung by
Professor Konstanze Vernon in Munich, Germany, which was where both Mrs Pearson and Stephanie
felt was the right place for her. She then returned to Australia to complete her academic studies.
During this year Stephanie was awarded the Outright Winner of the prestigious City of Sydney
Performing Arts Challenge McDonald's Ballet Scholarship in August 2000 and shortly after, went on to
achieve Honours in her RAD Advanced Exam and was awarded the RAD Solo Seal.
In January, 2001, Stephanie returned to Europe to commence her study at the Ballett Akademie
Heinz Bosl-Stiftung in Munich. She studied with Professor Joachim Metz, Konstanze Vernon, Michelle
Emmere, Elena Pankova and Krill Melnikov. Parallel to her studies at the academy Stephanie
performed regularly with the Bayerisches Staatsballett Company and in 2003 signed a Corps de
Ballet contract with the Company. Durning her first year she was selected to dance a principal role
in Hans van Manen's Black Cake and a solo role in Mats Ek's A Sort Of, working with both
choreographers in person.
In the Season 2008/2009 Stephanie was promoted to Soloist and has performed the leading role of
Giselle in Mats Ek's Giselle, Death/the Wife in Nacho Duato's Multiplicity: The forms of Stillness &
Silence, Five Brahms Waltzes in the Manner of Isadora Duncanby Frederick Ashton, Prudence in John
Neumeier's Die Kameliendame (Lady of the Camelias),a solo in Jiri Kylian's Gods & Dogs, the Mud
Woman in William Forsythe's Artifact and The Exiles by Jose Limon. Stephanie performed the
premiere in Munich of Russell Maliphant's Broken Fall choreographed for Sylvie Guillem, and the
roles of Jennifer in Limbs Theorem/Enemy and in the Figure both from William Forsythe. Stephanie
has also performed solo roles in Swan Lake, La Bayadere, Raymonda, The Sleeping Beauty, Giselle,
Don Quixote, Le Corsaire, The Nutcracker, The Taming of the Shrew (J. Cranko), A Cinderella Story
(J. Neumeier), Brahms Schoneberg Quartett (G. Balanchine), The Goldberg Variations (J. Robbins)
The Song of the Earth (K. MacMillian) and The Tempest. Stephanie has had several roles created for
her in ballets from Jiri Kylian, Simone Sandroni, Terrence Kohler and Itzick Gallili, and has worked
personally with many leading choreographers and their assistants.
In 2008, Stephanie was chosen by Professor Konstanze Vernon to study a Dance and Classical Ballet
Pedagogy Diploma under the master supervision of Professor Alex Ursiliak. The diploma was two
years and has qualified her to teach beginners through to Professionals with the Vaganova Method,
Dance History, Music, Pointe, Repetoire and Anatomy.
"I aim to give a chance to all to reach their potential, build self awarness, exercise thought and
problem solving. I aim to nurture these skills so that my student can take them into their future
where ever their path leads them."