Ballet Academy Northside offers a variety of classes designed for students of all ages and
disciplines – from the casual student looking for recreation and exercise, to the serious
student who is aspiring to a professional career in dance. In striving for the development of
each individual's full potential, Ballet Academy Northside supports an appreciation for
tradition and a sense of shared experience that prepares students for futures as artists,
engaged citizens, audience members, and responsible young men and women. We nurture
each student in their skills development and, above all, a lifelong appreciation for dance and
movement.
Syllabus
The School's comprehensive curriculum is based on the internationally recognised syllabus
of the Royal Academy of Dance, London. It focuses on strong technique that is rooted in the
traditions of classical ballet and inspired by a contemporary vision of the future. This
curriculum is designed to serve dancers of all ages by supporting the continuing quest for
greater athleticism, artistry, clarity, grace, speed and musicality. Annual performances of
classical and contemporary works are also an important part of the training model at our
school, allowing students to develop discipline, endurance, choreographic memory and
stage presence.
Educational Philosophy
Ballet Academy Northside prides itself on being a centre for dance & wellness for students of
all ages and abilities. We provide an exceptional dance education, while nurturing our
students' developing skills and lifelong love for dance which extends far beyond the syllabus.
Ballet Academy Northside strives to challenge each student, to explore his or her own
potential as a performing artist, whether he or she dances for enjoyment or pre-professional
training. Our highly-trained faculty members, take great care to instruct students with proper
technique and great discipline in an encouraging and supportive environment.
We believe that an engaging, dynamic and nurturing learning environment teaches valuable
skills and instils discipline with joy and respect. Our teaching provides thoughtful guidance
and clear communication to ensure that a student's journey is inspiring and rewarding. By
valuing and serving the individual needs of each student, we allow them to learn and grow in
their own time. Our programming is designed to allow for harmony with students' personal
and academic goals so our classes cultivate happy, healthy and creative young people.
Our School sets itself apart from many others as we emphasise a healthy learning
environment focused on technical and artistic excellence. As a professional dance school,
we empower students to gain confidence through self-discipline and constructive feedback.
We provide enduring and passionate support for each student's unique journey through a
caring community of artists and educators. Whilst supporting the accomplishments of their
peers, students learn the value of cooperation and build strong, lasting friendships.
We thank you for choosing Ballet Academy Northside as a place to continue your dance
education.
Xanthe Geeves and Gregor Thieler – Principal Directors
History
Ballet Academy Northside was founded by Jennifer Ham in 1989. Over twenty years, Jenny has been a wonderful mentor to all her students, with an ability to instil a sense of fun, discipline and love of dance in all her students. She has coached her dancers to excel, having students attain excellent results in examinations set by the R.A.D. Many of her students have been accepted into European Ballet Schools to study full-time and be offered positions in professional Ballet Companies all around the world.
At the beginning of 2013, Jennifer Ham has transferred the guardianship of her school. We are grateful that she will continue her excellent work as a ballet teacher and become the Patron of Ballet Academy Northside. Since early childhood dance has been a leading part of our lives. We are very thankful to have had all the enriching experiences and achievements gained over the last two decades of our professional dance careers. It has been most rewarding and fulfilling to invest all our passion for this wonderful profession, working as dancers, choreographers and teachers. To be able to work with dancers and help them to grow as individual and expressive performers has become a very strong commitment over the last few years and has grown continuously working as teachers and choreographers for other schools and companies worldwide. It is a true honour to take on the responsibility to continue the history of this wonderful school by managing and continuing to create a healthy, professional and inspirational environment for all dancers. We are glad to be able to build upon a very strong foundation, created by Mrs. Ham's excellent work over the last 30 years.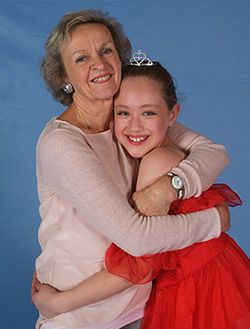 Patron and Founder – Jennifer Ham